Wayne Miller dies, leaves legacy of photos and forests
Wayne Miller dies: His photography documented moments of World War II, black Americans living on Chicago's south side in the late 1940s, his family and redwood forests. Some of Wayne Miller's images are now held in collections at museums around the country.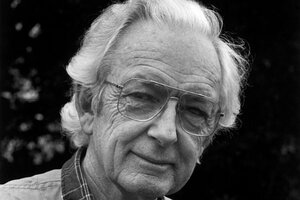 Joan B. Miller/AP
Photographer Wayne F. Miller, who created a ground-breaking series of portraits chronicling the lives of black Americans in Chicago after serving with an elite Navy unit that produced some of the most indelible combat images of World War II, died Wednesday.
Miller was also known for his work as a curator on an international photojournalism exhibition called "The Family of Man" and for contributing the photos to Dr. Benjamin Spock's "A Baby's First Year." He had lived in Orinda for six decades and become ill only in the last weeks of his life, his granddaughter Inga Miller said.
Born in Chicago, Miller trained for a career in banking but became a photographer when famed fashion photographer Edward Steichen picked him to be part of the military unit assigned to document the war. While assigned to the Pacific theatre, he took some of the first pictures of the atomic bomb-devastated Hiroshima.
His best-known wartime photograph shows a wounded pilot being pulled from a downed fighter plane. Miller had been scheduled to be aboard the plane before it was shot down, and the photographer who took his place was killed, according to Inga Miller.
---