Tonys 2013: The award goes to ... 'totally multi-talented' Neil Patrick Harris
Neil Patrick Harris hosted the 2013 Tonys, delivering a brash opening number, a soulful closing duet with Audra McDonald, and well-directed humor throughout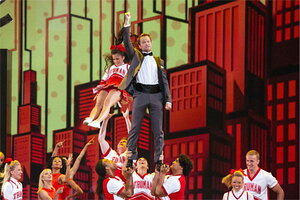 Lucas Jackson / Reuters
The reviews are in: It was a great Tony Awards. The dancing was inspired, the singing top-notch and the humor sly — and that's just for the host.
Neil Patrick Harris once again proved how invaluable he is to the success of one of entertainment's lesser-watched televised award shows on Sunday, and others may be paying attention.
"He's completely the real deal, totally multi-talented. When you're doing a show about Broadway with someone who understands television and also Broadway, it's a real unique opportunity," said Glenn Weiss, who co-produced the Tonys with Ricky Kirshner.
"He can perform, he has great energy, but he cares about the theater and you can't make that up," Weiss said. Added Kirshner: "He really has fantastic instincts with what will work and what won't."
From the big, brash opening number that included the casts from nearly a dozen musicals to the closing song three hours later that featured him rapping with Audra McDonald to a reworked "Empire State of Mind," it was Harris' night.
While much of it was scripted, those who attended rehearsals learned that Mr. Harris is also a master at ad-libs, too. After all, he has won more Emmy Awards as host (two) than he has as an actor (one).
The "How I Met Your Mother" star is able to make fun of himself and Broadway pretenses while never appearing lame or nasty. On the telecast, he swiped at his own "Doogie Howser, M.D." roots, seemed to make out with the dog from "Annie" and gently mocked a trio of "Chicago" ladies who had become overly theatrical in their presentation.
Targets included former boxer Mike Tyson — "You haven't lived until you've seen Mike Tyson in a pair of kinky boots" — and film director Tom Hooper from "Les Miserables" — "On Broadway, we don't need extreme close-ups to prove we're singing live," he challenged. He has become a main reason to tune in, regardless of the nominees.
---