'Sopranos' star James Gandolfini challenged mobster stereotype
The actor who played Tony Soprano was remembered for his talent and his respect for others by HBO, the channel which aired the hit series 'The Sopranos,' in a statement released Wednesday. Gandolfini had a varied career from Broadway to television and film.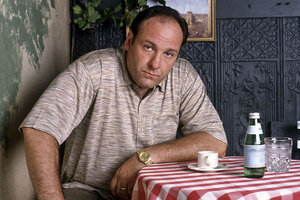 AP Photo/HBO, Anthony Neste, File
James Gandolfini, whose portrayal of a brutal, emotionally delicate mob boss in HBO's 'The Sopranos' helped create one of TV's greatest drama series and turned the mobster stereotype on its head, died Wednesday in Italy.
In a statement, the cable channel, and Gandolfini's managers Mark Armstrong and Nancy Sanders, said he died Wednesday while on holiday in Rome. No cause of death was given.
'Our hearts are shattered and we will miss him deeply. He and his family were part of our family for many years and we are all grieving,' said Armstrong and Sanders.
HBO called the actor a 'special man, a great talent, but more importantly a gentle and loving person who treated everyone, no matter their title or position, with equal respect.' The channel expressed sympathy for his wife and children.
Gandolfini played mob boss Tony Soprano in the groundbreaking HBO series that aired from 1999 to 2007. His film credits included 'Zero Dark Thirty' and 'Killing Them Softly,' and he amassed stage credits as well.
---