Dennis Farina: Former cop made successful transition to acting
Dennis Farina was a police officer with the Chicago Police Department when he began his acting career in the early 1980s. Acting became Dennis Farina's profession, where he went on to play police officers and many other roles on television and in the movies.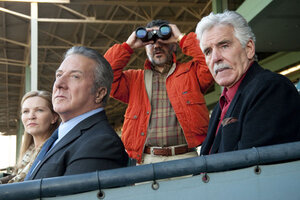 Gusmano Cesaretti, HBO/AP/File
Dennis Farina, a onetime Chicago cop who as a popular character actor played a TV cop on "Law & Order" during his wide-ranging career, has died.
Death came Monday morning in a Scottsdale, Ariz., hospital, according to his publicist, Lori De Waal.
For three decades, Farina was a character actor who displayed remarkable dexterity, charm and toughness, making effective use of his craggy face, husky frame, ivory smile and ample mustache. He could be as dapper as Fred Astaire and as full of threat as Clint Eastwood. His gift has been described as wry, tough-guy panache, and audiences loved him for it.
"Sometimes you can take those dramatic roles and maybe interject a little humor into them, and I think the reverse also works," Farina said in a 2007 interview with The Associated Press. "One of the funny things in life to me is a guy who takes himself very seriously."
Farina's many films include "Saving Private Ryan," (1998), "Out Of Sight" (1998), "Midnight Run" (1988), "Manhunter" (1986), and his breakout and perhaps most beloved film, "Get Shorty" (1995), a comedic romp where he played a Miami mob boss.
He recently completed shooting a comedy film, "Lucky Stiff."
Among his numerous TV roles was Detective Joe Fontana on "Law & Order" during the 2004-06 seasons, replacing longtime cast member Jerry Orbach in the ensemble.
"Law & Order" executive producer Dick Wolf said he was "stunned and saddened to hear about Dennis' unexpected passing this morning. The 'Law & Order' family extends sympathy and condolences to his family."
Also on TV, Farina was a regular in the star-studded though short-lived 2011-12 HBO horse-track drama "Luck."
---