Diahann Carroll, Denzel Washington revive 'A Raisin in the Sun'
Diahann Carroll and Denzel Washington will play mother and son in a Broadway revival of the American classic 'A Raisin in the Sun.' In 1968, Diahann Carroll was the first black woman to star in a non-servant role on TV.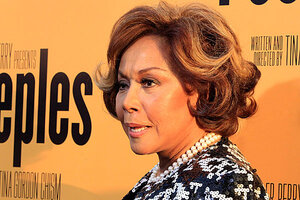 REUTERS/Fred Prouser
Tony Award winners Diahann Carroll and Denzel Washington will play mother and son on Broadway in a spring revival of the classic American play "A Raisin in the Sun," an opportunity that has left him "overjoyed" and her "thrilled."
"I think it's one of our most original plays and I think that's why it keeps coming back," said Carroll by phone from Los Angeles. Washington, en route to a film set in Boston on Thursday afternoon, agreed: "It's one of those classics."
Previews of Lorraine Hansberry's play begin March 8 at the Ethel Barrymore Theatre with an opening night scheduled for April 3. Kenny Leon, who directed Washington on Broadway to a Tony in "Fences," will helm the production.
Both Carroll and Washington confessed that they were somewhat daunted by the prospects of an eight-show week. For Carroll, it's the first time on Broadway in 30 years but "once you're into the flow of it, it becomes a life style." Washington, speaking on the way to the set of "The Equalizer," said theater and film — with its 14-hour days — were both tests of endurance.
"While you're sleeping tonight, I'll be running around on the street of Boston so I don't take that lightly," he said. "I don't think eight-shows-a-week is necessarily harder, but the energy I get from the audiences, you don't get that on a film."
---