Jury: Promoter not to blame for Michael Jackson death
In Wednesday's verdict, jurors rejected claims that AEG Live, the country's second largest concert promoter, was negligent for hiring the physician who killed pop star Michael Jackson with a sleep aid overdose.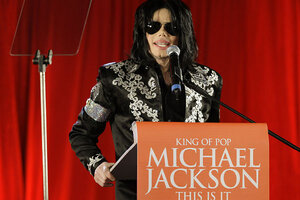 AP Photo/Joel Ryan, File
A jury cleared a concert promoter of negligence in a case that attempted to link the death of Michael Jackson to the company that promoted his ill-fated comeback shows.
The panel rejected a lawsuit brought by Jackson's mother claiming AEG Live was negligent in hiring the doctor who killed Jackson with an overdose of a hospital anesthetic that the singer used as a sleep aid.
With its verdict, the panel also delivered a somewhat surprising message: Jurors did not believe Dr. Conrad Murray was unfit or incompetent to perform his duties involving Jackson.
The ruling on that question ended any further consideration on damages and who was at fault for the death.
"I couldn't be more pleased with the way the jury came out. They got it exactly right," AEG Live lead defense attorney Marvin S. Putnam said after the verdict was read.
Katherine Jackson told reporters she was OK after the verdict.
A victory could have meant hundreds of millions of dollars in damages for Katherine Jackson and the singer's three children and provided a rebuke of AEG Live, the nation's second-largest concert promoter.
Murray was convicted in 2011 of involuntary manslaughter after giving Jackson the overdose as he prepared for a series of comeback shows.
The case provided the closest look yet at Jackson's drug use and his battles against chronic pain and insomnia. It also took jurors behind the scenes in the rough and tumble world of negotiations with one of the world's most famous entertainers looking to solidify his legendary status after scandal interrupted his career.
---