This 'Bucket' feels listless
Morgan Freeman and Jack Nicholson team up for a clunky story about two seniors trying to live it up before it's too late.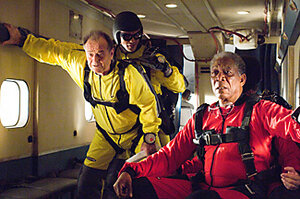 Courtesy of Sidney Baldwin/Warner Brothers
The spectacle of watching Jack Nicholson and Morgan Freeman horsing around together may be enough to entice audiences to check out "The Bucket List," but will this be enough to keep them in their seats? A movie star, by definition, is someone you are willing to watch in just about anything. If that's the case, "The Bucket List," a slapstick weepie cloddishy directed by Rob Reiner, is a bona fide star vehicle. But this vehicle really should be junked.
Carter Chambers (Freeman) is an easygoing auto mechanic who finds himself sharing a room in the same cancer ward with Edward Cole (Nicholson), a cranky billionaire entrepreneur who also happens to own the hospital. Why would Edward share a room in his own hospital? The ostensible reason is that he has mandated equal treatment for all patients, including himself. The real reason, of course, is that if these two polar opposites did not start out in the same room together, there would be no movie.
One swallow doesn't make a summer, and one contrivance doesn't necessarily make for a bad movie. But as the manipulations pile up, "The Bucket List" begins to defy human reason. Carter, you see, has jotted down a few modest things he'd like to do before he kicks the bucket, and Edward, who has conveniently also gone into remission and who even more conveniently has a private jet, ups the stakes. They go skydiving, race-car driving, encamp in luxury surroundings, visit the south of France, the Taj Mahal, the Great Wall of China, the Pyramids, the Himalayas, and Hong Kong.
---
Follow Stories Like This
Get the Monitor stories you care about delivered to your inbox.