With 'Cassandra's Dream' Woody Allen once again gets away with murder
'Cassandra's Dream,' starring Ewan McGregor and Colin Farrell, explores the seamy underside of upper-class British culture. But what we're left with is more ordinary than horrifying.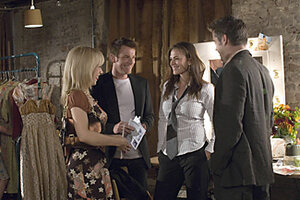 Courtesy of Keith Hamshere/The Weinstein Company
"Cassandra's Dream" is Woody Allen's third film in a row set in England, the other two being "Match Point" and "Scoop." His next film is currently listed as "Untitled Spanish Project."
This new international Woody Allen takes some getting used to. For over 30 years his films, for better or worse, have almost always been based in New York, but the city he shows us is virtually all white and upper-middle-class. Allen is captivated by a fantasy New York where Gershwin tunes are always playing, literally or figuratively, in the background.
Narrowness of locale is not, of course, the same as narrowness of vision – if it was, we'd have to downgrade Jane Austen. But over the years Allen hasn't really moved beyond movies such as "Hannah and Her Sisters" and "Crimes and Misdemeanors." What we get are themes and variations on previous good work, to lessening effect.
The London-set "Cassandra's Dream" is about two affable working-class brothers, Terry (Colin Farrell) and Ian (Ewan McGregor), who end up as murderers, and it has faint links to both "Crimes and Misdemeanors" and "Match Point." (These films also have links to Dostoevsky, but let's not get carried away.)
---