'Persepolis' peeks behind the veil
'Persepolis' tells the story of an Iranian girl caught between two warring cultures.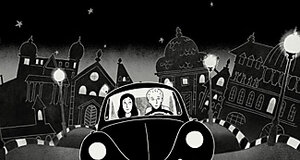 courtesy of Marjane Satrapi and vincent paronnaud/Sony pictures classics
Marjane Satrapi's acclaimed 2003 autobiographical graphic novel series has been turned into one of the most complexly moving animated films I've ever seen. Satrapi and her codirector, Vincent Paronnaud, both making their feature-film debuts, take animation back to its hand-drawn roots.
The stark yet fluid compositions, almost all of them in black and white, are nothing like the CGI animation that has virtually overtaken the field. "Persepolis" doesn't have the almost hallucinatory virtuosity of Hayao Miyazaki's work, which is also hand-drawn, but it's a model of how richly personal animation can be in – literally – the right hands.
"Persepolis" follows the childhood and young adulthood of Marjane (voiced by Gabrielle Lopes and later, Chiara Mastroianni), an only child raised by caring, intellectual parents (Catherine Deneuve and Simon Abkarian) in the waning days of the Shah's Iran. At first overjoyed at the overthrow of the dictatorship, Marjane's family quickly falls victim to the even worse theocracy. For her safety – she is blisteringly outspoken – Marjane is sent to Vienna at age 14. A stranger in a strange land, she initially tries to hide her Iranian roots. A lover of everything from Michael Jackson to ABBA, she joins up with a clan of trendy nihilists and falls in love twice, and is twice betrayed.
---