'4 Months, 3 Weeks, and 2 Days' offers up a starkly rendered ordeal
The latest social-realism drama to emerge from Romania's New Wave is about a women seeking an illegal abortion during the Ceauşescu regime.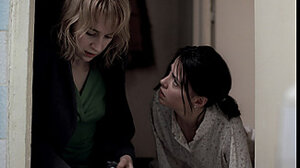 Adi Paduretu/Mobra
"4 Months, 3 Weeks, 2 Days" is a harrowing odyssey about an illegal abortion and yet, moment by moment, it's bursting with life. Set in small-town Romania in 1987 under the waning but still tyrannical Ceauşescu regime, it depicts 24 hours in the lives of two college girls – the pregnant Gabita (Laura Vasiliu) and her fiercely loyal roommate, Otilia (Anamaria Marinca) – as they attempt to elude the authorities.
On its simplest level, the movie is a straightforward chronicle of the events leading up to the abortion, and its immediate consequences. But it is so much more than that. Cristian Mungiu, the writer-director, making only his second feature, opens up an entire society for us. The human drama he elicits, in all its pity and terror and gumption, is Chekhovian.
The story develops slowly but inexorably. Gabita gathers her necessities for a stay over in a hotel while Otilia barters for soap, money, cigarettes. Otilia thinks she has secured a hotel only to find out her reservation was never recorded; she must then scurry to find another room. She meets with the abortionist, a softly bullying man who calls himself Mr. Bebe (Vlad Ivanov), and endures his condescension.
Throughout these trials Otilia is impelled to help her friend, and her split-second choices, her capacity to lie to the desk clerks, to Mr. Bebe, to anyone who would impede her mission, is almost frighteningly adept. She has learned how to endure under totalitarianism, although the cost to her is startlingly apparent. Her delicate beauty is being eroded by the horrors of the society she must navigate to survive.
---