'In Bruges,' the scenery is nice; these tourists, not so much
In the dark comedy, two hit men (Colin Farrell and Brendan Gleeson) hide out in the medieval Belgian town until their boss (Ralph Fiennes) catches up with them.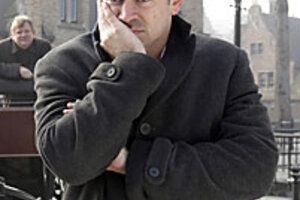 courtesy of jaap buitendirjk/focus features
Celebrated playwright Martin McDonagh ("The Pillowman," "The Beauty Queen of Leenane") has written and directed his first feature, "In Bruges," and, if nothing else, it's a showpiece for that Belgian city's medieval splendor. You may want to book vacation reservations upon leaving the theater, although the memory of this underwhelming movie may tarnish the sightseeing.
The story seems cooked up from the get-go. Just before Christmas, two hit men, Ray (Colin Farrell), and Ken (Brendan Gleeson), are ordered by their London boss, Harry (Ralph Fiennes), to hide out in Bruges for a couple of weeks in the aftermath of a tragically botched job involving a young boy.
Although neither hit man has known the other for long, they have a partners-in-crime camaraderie. Ken is Ray's mentor, sounding board, and taunter. He enjoys the city's glittery splendor and regards his enforced hiatus as R&R. Ray, guilty about the London fiasco and increasingly anxious about his banishment, barely tolerates Bruges. He's blind to its antique charms – at least until he discovers the pub scene.
McDonagh tries to pass "In Bruges" off as more than a crime thriller. Much as David Mamet does in his films, McDonagh sets up a gangster scenario and then proceeds to deconstruct it. The two men spend vast amounts of time jawboning about nothing in particular and when that wears thin, McDonagh hauls in eccentric side stories. I'd call them subplots except I'm not sure the film has a plot.
---