New on DVD: 'Becoming Jane' and 'The Jane Austen Book Club'
Jane Austen's ever-popular canon of work has spawned two ancillary films: Anne Hathaway plays the author herself in a fanciful biopic, and an adaptation of Karen Joy Fowler's bestseller about a book club gleans romantic wisdom from Austen's novels.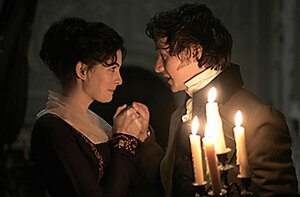 courtesy of colm hogan/miramax
Becoming Jane (PG) Interest in Jane Austen seems only to be growing. This latest DVD comes as Masterpiece Theater airs "Miss Austen Regrets," its own speculative imagining of the writer's love life.
"Becoming Jane" takes a possible romance hinted at in letters as its starting point, unfolding as if Austen had stepped into one of her own novels – a gimmick, sure, but romantic comedy dressed in period costume has its charms.
James McAvoy is roguish and irresistible as Tom Lefroy, the enduring love interest of 20-year-old Austen (Anne Hathaway) – Mr. Darcy to her Elizabeth. Hathaway succeeds in her portrayal of a young writer coming into her craft, while the film convincingly enters Austen's mannered world. Critics are right: This is not truly Austen, it's Hollywood. But that doesn't mean it's not enjoyable. Extras include "Discovering the Real Jane Austen," a somewhat misleading and not terribly illuminating feature about the making of the film.
Grade: A– – Teresa Méndez
The Jane Austen Book Club (PG-13)
The conceit is simple: five women and one guy – each smarting from romantic tribulations – convene monthly to read all of Austen's books (even "Northanger Abbey"). On the face of it, Allegra (Maggie Grace), a sky-diving lesbian has little in common with Marianne Dashwood, but she finds life lessons in "Sense and Sensibility." Prudie (Emily Blunt), a prim and reserved teacher with an inattentive husband, turns to "Mansfield Park" while contemplating an affair with a student. Sylvia (Amy Brenneman) leans on "Persuasion" when her husband leaves her for another woman. Clumsy at times, slow at others, Robin Swicord's film benefits from good performances as it heads toward an Austensibly happy ending for its characters. Grade: B– – Stephen Humphries
---
Follow Stories Like This
Get the Monitor stories you care about delivered to your inbox.