In the Middle East, women directors unspool social commentary
The Monitor talks to three female filmmakers about the trials and triumphs of moviemaking in conservative societies.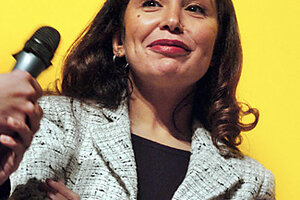 Frank Perry/afp/getty images
In the Middle East, women have a new voice: the movies. As nascent film industries bloom in the region, a few emerging women directors are probing some of the most delicate subjects within their male-dominated communities, giving viewers a glimpse into once-veiled worlds.
"Women realized that they were in double jeopardy – of having Westerners speak for them, and men speak for them.... so they got behind the cameras," says Mona Eltahawy, a New York-based Egyptian commentator and lecturer on Arab and Muslim issues.
The Monitor recently contacted three such filmmakers – Israeli Arab Ibtisam Maraana and Buthina Canaan Khoury of the Palestine Territories; and Haifaa Al-Mansour of Saudi Arabia – to talk about their hard-won successes.
In time, these directors may come to emulate the commercial fortunes of Nadine Labaki's "Caramel," a comedic social commentary set inside a Beirut beauty salon that became Lebanon's top-grossing film of 2007, or Marjane Satrapi's "Persepolis," the Oscar-nominated film based on her childhood in Iran. (Both films are in release in the US.) But the three directors are wary of being pigeon-holed, a notion voiced by Satrapi, who lives in France.
---