New on DVD: 'The Valley of Elah' and 'Michael Clayton'
In the valley of Elah, a shadowy murder case; a corporate conspiracy catches up with Michael Clayton.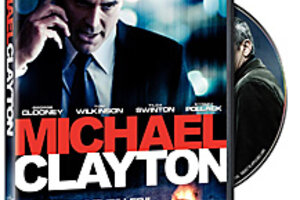 Courtesy of Warner Home Video
"In the Valley of Elah," directed and written by Paul Haggis, was among the first of a glut of Iraq war films rolled out late last year, and among the first to be flatly rejected by American audiences (total gross: less than $7 million). But unlike other films, "Elah" processes the conflict tangentially, in concentric circles. Vietnam veteran Hank (Tommy Lee Jones) gets a call that his son, Mike, has disappeared from Fort Rudd, only a week after returning from Iraq. Mike goes to investigate; but like all good flawed heroes, he doesn't know when to stop, and ends up burrowing deep into a Grade-A murder mystery. "Elah" is entertaining to watch. It is, as has been noted elsewhere, not really a war movie, but a military thriller, full of razor-sharp, dextrous performances. But Haggis has tried so hard to pack it thick with multiple lessons – on grief, on death, on war, on the Bible – that it feels like an overpacked freight train loose on the rails. Grade: B– – Matthew Shaer
Michael Clayton (R)
---
Follow Stories Like This
Get the Monitor stories you care about delivered to your inbox.