This thriller is at a disadvantage 'Point'
The conspiracy plot of 'Vantage Point' feels like a blend of 'Die Hard' and 'Rashomon.'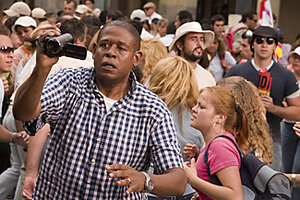 Courtesy of Daniel Daza/Columbia Pictures
The action thriller "Vantage Point" has a terrific trailer but the movie itself turns out to be a feature-length trailer. It's all coming attractions for a film that never really happens.
The story line is one of those high concepts that must have sounded bankable in the boardroom. The president of the United States (William Hurt) is assassinated moments after he speaks at an outdoor summit in Spain on global terrorism. Whodunit?
Eight different viewpoints to the crime are presented by eight witnesses, including an American TV news producer (Sigourney Weaver), an American tourist (Forest Whitaker), and a Secret Service agent (Dennis Quaid). Each mini-story pushes the action forward, then the scenario rewinds and we start over again with another version.
It's "Rashomon" for the ADD generation.
We're supposed to be solving the puzzle bit by bit, but director Pete Travis and screenwriter Barry Levy don't offer up enough solid clues. Instead of using my wits to piece things together, I was clutching my ears instead. The movie is almost nonstop car screeches and explosions and gunfire and shouting. The Dolby sound system in my theater had a better time than I did.
---