Ferrell turns court jester in 'Semi-Pro'
The comedian applies his antics to the basketball world of the 1970s for a movie where plot takes a backseat to skits.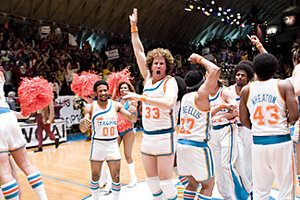 Courtesy of frank masi/new line cinema
Having romped through the worlds of figure skating, NASCAR racing, and soccer, Will Ferrell takes on the world of basketball in "Semi-Pro." The American Basketball Association, to be exact.
Ferrell plays one-hit-wonder Jackie Moon, whose sole disco hit "Love Me Sexy" has enabled him to buy the (fictional) Flint, Mich., Tropics. He also coaches and plays power forward. You were maybe expecting Ferrell to sit on the sidelines during playtime?
The ABA, which lasted from 1967 to 1976, was the poor relation of the National Basketball Association (NBA), and "Semi-Pro" milks the mediocrity for all its worth. The Tropics are pretty much defunct even before the league collapses. The movie is about how they go out in glory, except, of course, glory in a Will Ferrell movie isn't all it's cracked to be. In any case, his films are funniest when he's on the skids. Victory does not become him.
---