It's an inside 'Job'
In 'The Bank Job,' a used-car dealer and a motley crew of London criminals play into a shadowy, state-run plot.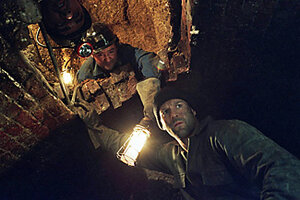 Lionsgate
The heist movie is one of my favorite genres. This is another way of saying that I am willing to cut a mediocre bank robbery movie more slack than, say, a mediocre ninja movie.
"The Bank Job" is several cuts above mediocre, so the slack expended is fairly minimal. The credits say that it is "inspired by" a true story – a come-on that is also a disclaimer. Although the characters' names have been changed and, in some cases, their identities fabricated altogether, the basic outline of this famous 1971 London heist – dubbed the "Walkie-Talkie Robbery" – is truthful.
The heist involved the looting of the safety deposit boxes in the main vault of Lloyd's Bank by a team of comparative amateurs led by a used-car dealer who, here, is given the flavorful monicker Terry Leather (Jason Statham). And they did it the old-fashioned way – by burrowing underground with pick-axes and shovels and blow torches.
What gives the robbery its fascination is that, as director Roger Donaldson and screenwriter Dick Clement delineate it, Britain's MI5 and MI6, unbeknownst to the crooks, actually set up the job.
---