New on DVD: Enchanted and I Am Legend
Wipe away the fairy dust, and you'll find a solidly conventional tale in 'Enchanted.' But if it's a thrill you're looking for, try 'I Am Legend.' And buckle in tight.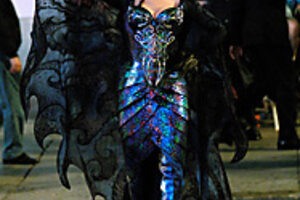 Courtesy of Tippet Studios/Disney
Enchanted (PG)
At first, "Enchanted" seems thoroughly postmodern – Disney's bid to catch up to the deconstruction of all-things Brothers Grimm in "Shrek" and in Gregory McGuire books such as "Confessions of an Ugly Stepsister." But wipe away the sprinkling of parodic fairy dust and you're left with a conventional tale in which a wicked queen (Susan Sarandon, r.) banishes a princess (Amy Adams) from her animated kingdom into real-world New York where a prince charming (Patrick Dempsey) awaits. There aren't enough fish-out-of-water scenes as the similar "Splash," and though Adams has enough radiant energy to counteract a black hole, she doesn't have much of a character arc. But the film has many joys such as witty musical numbers that spoof/pay homage to "Mary Poppins" and "Snow White." The elaborate creation of these sequences – one of which employs rats and pigeons – are detailed in the bonus features. Grade: B – Stephen Humphries
I Am Legend (PG-13)
One of the cardinal rules of a horror movie: always play a bit of warning music before springing a surprise on the viewer. "I Am Legend," which takes place in a world populated by CGI monsters, doesn't play fair. (This particular viewer was twice nearly ejected from his seat in fright, like a fighter pilot out of a downed jet.) The rest of the movie is standard apocalypse fare. Will Smith plays scientist Robert Neville, apparently the only survivor of a man-made plague. The victims went bald, got angry, and now prowl the streets at night, looking for blood. Neville must find the cure – cue that music – before it's too late. Extras include a handful of beautifully drawn – and gory – "moving" comic strips. Not kid-friendly stuff. Grade: B– – Matthew Shaer
---
Follow Stories Like This
Get the Monitor stories you care about delivered to your inbox.