Football turns screwball in 'Leatherheads'
George Clooney's period-set sports film aims to capture the romantic zing of Howard Hawks's farces.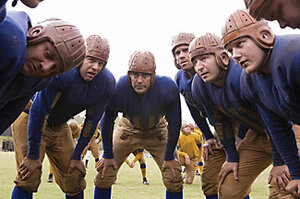 George Clooney plays an over-the-hill football stalwart from the 1920s in "Leatherheads," but there's nothing over the hill about his screen presence. Even in a middling comedy such as this one, which he also directed, he's alarmingly ardent. Clooney is relying on the tremendous audience rapport he's built up over the years, and he's right to do so.
Clooney's Dodge Connelly has been kicking around the sport for years without attracting much in the way of fans or sponsorships. His team, the Duluth Bulldogs, consists of brawlers who otherwise work light jobs like coal-mining. The only reason these guys play the game is because they love it – or, to be more precise, because they love colliding with each other.
This is, after all, the pro football era when you were considered a sissy if you threw a pass instead of charging through the line. College football, however, was another story. The best college players were genuine stars and their games were highly publicized. The conceit of "Leatherheads" is that pro football became big in America by poaching from the colleges.
---