For '88 Minutes,' Al Pacino hams it up
The only reason to watch this thriller about a psychiatrist trying to find a killer is to watch the veteran actor have a ball.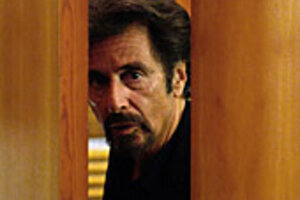 chris helcermanas-benge/columbia
Al Pacino loves to act. He loves to act in good movies, in bad movies, in mediocre movies. He loves to act on stage, on screen, in television. I'm sure he loves to act in his car and in the shower.
The upside of all this is that Pacino, given the right role, is probably better than anybody else in the business at his craft. The downside is that, given the wrong role, he's a Grade-A, bone-in honeybaked ham.
"88 Minutes," which unfortunately has a running time of 105 minutes, is an example of the latter. It's not just ham we're talking about here – it's an entire deli platter. Pacino has never been the most selective of actors – for every "Godfather" and "Dog Day Afternoon" there's an equal number of stinkers, such as "The Devil's Advocate." But here's the thing about Pacino: He's often at his most entertaining when he's chewing the scenery (including the drapes, the floorboards, the window frames, the couches). Watching a great actor raise the roof is often more enjoyable than watching an OK actor deliver the goods.
In "88 Minutes," Pacino plays Dr. Jack Gramm, a Seattle forensic psychiatrist whose testimony led to the conviction of a serial killer, Jon Forster, whose grisly handiwork we are introduced to in the film's opening minutes. Nine years later, on the eve of Forster's scheduled execution, a copycat killing suddenly casts doubt on Forster's guilt as he attempts a stay of execution.
Although the media outlets and the FBI begin to have their doubts about Forster's guilt, Jack is unmoved. He's seen these creatures before and knows their minds. But Forster knows his, too. Harkening back to a murder in Jack's family from years ago, Forster – or somebody – calls him on his cellphone and delivers the message that the great Dr. Gramm has 88 minutes to live.
---