Review: 'Wanted'
Latest comic-book hero movie is a luridly violent film about an assassin in training.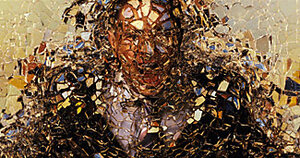 universal pictures
The battle of the summer comic-book – oops, graphic-novel – movies continues with "Wanted." I enjoyed "Iron Man," mainly because of Robert Downey Jr., and tolerated the far-from-incredible "Incredible Hulk." The first major Hollywood feature from the Russian director Timur Bekmambetov, whose "Night Watch" and "Day Watch" were the two highest-grossing films in Russian history, "Wanted" is easily the most cinematically expert of the current crop of comic-book extravaganzas.
But in a way, that's what's wrong with it. The film's high proficiency is at the service of a concept that can most accurately be defined as sadomasochistic. I thought these comic movies were supposed to be fun. The only people likely to devour "Wanted" are wolverines.
Once again we are presented with a scrawny dweeb, Wesley Gibson (James McAvoy), who breaks out of his humdrum existence to become a hero – or antihero. Or not-quite-superhero. Whatever.
Comic-book movies are always quick to remind us that deep down many of their headliners are ordinary human beings like you and me. This isn't quite accurate unless you happen to believe that a bloated green giant or a kid whizzing between skyscrapers in a spider suit or a munitions dealer outfitted like a megacrustacean are human just because they don't defy the laws of physics. (Which, come to think of it, they often do anyway.) But I digress.
---