Review: 'Hancock'
Another reluctant superhero takes to the screen with Will Smith in full comedy mode, but plot swerves undermine second half.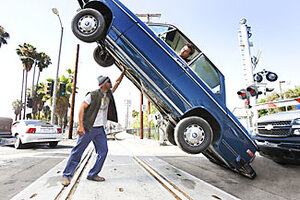 Columbia Pictures
What superhero shall I vanquish this week? "Hancock" stars Will Smith as the eponymous headliner in what is being promoted as a revisionist bam-pow epic. But what is so new these days about a superhero who doesn't wear the mantle of heroism lightly? From "Iron Man" to "The Incredible Hulk" to "Wanted" – and this is just a culling from the past few months – the comic-book action stars have all been unwilling custodians of their powers. The true revisionism would be if a superhero actually enjoyed being a superhero.
This is emphatically not the case with Hancock, who is so bummed out about his prowess that he zooms around on his rescue missions half-inebriated. More often than not, he creates as many problems as he solves. (His public boos him.) He is, inevitably, based in Los Angeles, where image is all, and his image desperately needs a makeover.
When Hancock rescues from certain death an L.A. public relations "image consultant," Jason Bateman's Ray Embrey, Ray returns the favor by taking the highly reluctant super/anti-hero as his client. Director Peter Berg and his writers Vy Vincent Ngo and Vince Gilligan have gotten hold of a good satirical idea here: In the modern media world, everybody wants a makeover.
---