Review: 'Mamma Mia! The Movie'
This loopy ABBA musical has Meryl Streep playing a superannuated American hippie running a funky hotel on a Greek island and preparing for her daughter's marriage.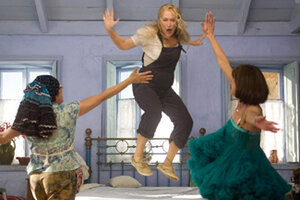 Peter Mountain/Universal Pictures
Just when you thought you had finally expelled those infernally catchy ABBA songs from your head, here's "Mamma Mia! The Movie" to reinstall them all over again.
Based on the hit musical that opened a decade ago in London and has, seemingly, never stopped running anywhere, "Mamma Mia! The Movie" is a great big galumphing hoot. It's a classic example of the kind of film where the cast appears to be having a much better time than the audience. And yet there's something flabbergasting about it that keeps you watching. How often do you get to see Meryl Streep make a fool of herself? She's such a good actress that she makes her foolishness an integral part of her performance. She seems to be in on the joke, which makes it go down a lot easier. Now if only I was clear on what the joke is.
Streep plays Donna, a superannuated American hippie who, for the past 20 or so years, has run a funky hotel on a remote Greek island. Her daughter Sophie (Amanda Seyfried) is about to get married and, unbeknownst to her mother, has mailed invites to the three men in Donna's past whom she suspects of being her father. When the men arrive on the island, none having had any contact with Donna in decades, the fur quickly flies. Sophie thinks that by knowing her real dad, her life will finally fall into place. The problem is, not even Donna knows for sure. (Since the film is set in 1999, presumably DNA testing was not an option, or else the whole shebang could have culminated in an episode of "Dr. Phil.")
---