Review: 'Step Brothers'
Comedy about a couple of grown men acting like stunted 14-year-olds oversteps the limit of loserliness.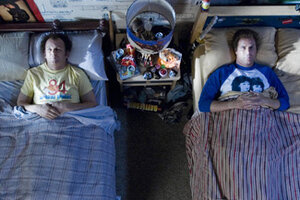 STEPHEN VAUGHAN/WARNER BROS. PICTURES
Before their latest comedy "Step Brothers," Will Ferrell and John C. Reilly last teamed up for "Talladega Nights: The Ballad of Ricky Bobby," which I was somewhat alone in rating less than a laugh riot. Both Ferrell and Reilly were playing winners – at least in their own minds – and that stunted the comedy. These guys are best when they are playing losers.
Still, there are limits to loserliness, and "Step Brothers" oversteps them. Ferrell plays Brennan Huff, a mostly out-of-work layabout who lives with his overly indulgent single mom (Mary Steenburgen). Reilly, equally loafy, lives with his exasperated doctor father (Richard Jenkins). When the parents marry, the boys – er, men – are required to live together in the same house. In the same room. Can bunk beds be very far behind?
The idea of two grown men acting like stunted 14-year-olds is amusing enough, and Ferrell has a few classic bug-eyed loony moments, such as when he reluctantly sings a song and gasps at the angelic sounds coming out of his mouth. Reilly is a good foil for Ferrell, but too many of their scenes together have the effect of improv night at the comedy club. Director Adam McKay is a veteran of the Judd Apatow school of R-rated gross-out gooniness, but this latest installment in the canon is decidedly underpowered. Grade: C+ (Rated R for crude and sexual content, and pervasive language.)
---
Follow Stories Like This
Get the Monitor stories you care about delivered to your inbox.