Review: 'The Rocker'
A superannuated, would-be rock star is so passionate about his second chance at stardom you want to cheer him on in this oddball comedy.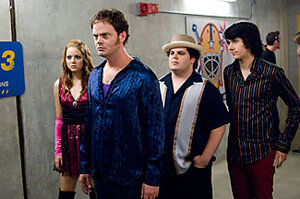 George Kraychyk/AP
With "The Rocker," Rainn Wilson joins the select company of Jack Black in "School of Rock." He plays Robert "Fish" Fishman, a beaten-down insurance company employee who, for a brief time in the 1980s, was the drummer for a group called Vesuvius, which, soon after they kicked him out, scaled the heights of hard-rock stardom. He's never gotten over it.
Fish has been idle until his nerdy nephew Matt (Josh Gad) asks him to be the last-minute choice for drummer of his garage band, appropriately named A.D.D. Seized by visions of rock nirvana, Fish goes back on his vow never to execute another rimshot. He also revives his ritual of practicing in the nude. YouTube turns him into an instant celebrity and pretty soon A.D.D. is on tour, with the mother of the handsome lead singer-guitarist, Teddy Geiger (played by Christina Applegate), in tow. Seemingly straight-laced, she turns out to be a good match for Fish's gonzo gyrations.
A whacked-out, superannuated, would-be rock star might seem to be too easy a comic target, but Wilson gives this sad sack so many fresh twists that he never wears out his welcome. Like Black in "School of Rock," Wilson knows how to modulate the craziness; Fish's stillnesses are as funny, and as oddball, as his manic moments.
---