Review: 'Traitor'
Latest 'war on terror' movie falls down in casting likable Don Cheadle as a mass bomber.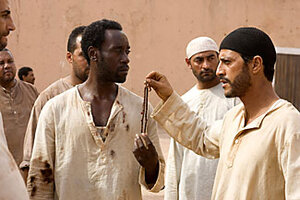 Overture Films/AP
With its genuine concerns for the dangers posed by fanatics on Islam's fringe and its desire to dramatize a heroic character on screen, "Traitor" is primed to appeal simultaneously to the realist and the idealist in the viewer. Perhaps this is what's always battling inside the movies that Hollywood makes about war: To show it as it is, or as one would like it to be. By placing a Sudanese-born, Chicago-raised devout Muslim and US Special Forces vet (played by Don Cheadle) at the center of a terror plot in the American heartland, "Traitor" tries to squeeze it all into one nifty, ideological-religious package.
Who would have expected that such a premise would be dreamt up by Steve Martin? Apparently tapping his inner Robert Ludlum, Martin (who takes only an executive producer credit) introduces the idea of a Muslim moderate battling Muslim extremists – all the while unsure that his adopted US is doing the right thing. It's a curious new twist in the way that American pop culture responds to the so-called "war on terror." Thus far, though, from "The Kingdom" to "In the Valley of Elah" (with David Simon's "Generation Kill" for HBO the sole exception), the war hasn't gone too well on the big screen or small, and "Traitor" doesn't improve the situation.
---