Review: 'Appaloosa'
Old-style western plays on the camaraderie and courage of frontier life.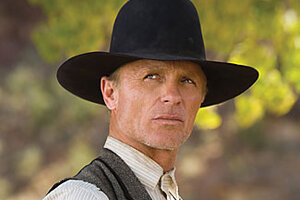 Lorey Sebastian/AP
The western has always been the movies' great refuge to express the virtues of individualism, but the reason some of us consider it (still) the greatest genre is that it can depict the single hero standing above the crowd while also profiling the complex arena of friendship. The best thing about Ed Harris's "Appaloosa" is that he understands this and finds various ways to observe how friends can provide a haven when everyone else spells trouble.
This isn't to say that "Appaloosa" is a buddy picture. It isn't, anymore than Howard Hawks's great "Rio Bravo," in which John Wayne and friends find common bonding in their battle against ruthless crooks, is a buddy picture. Some of the jokey banter in Robert B. Parker's novel is absent in the screenplay, all the better to show lawmen-for-hire Virgil Cole (Harris) and deputy Everett Hitch (Viggo Mortensen) as a no-nonsense team, so deeply trusting of each other that they hardly need to speak to get to the point.
When Virgil and Everett arrive in the New Mexico Territory town of Appaloosa in 1882 (the time of President Chester A. Arthur and the gradual civilizing of the Wild West), they are part of that civilizing, taking on the assignment of bringing outlaw rancher Randall Bragg (Jeremy Irons) to justice for the murder of the town's previous marshal and deputies. Just as Appaloosa looks like an archetypal western town, from its clapboard buildings to its small cadre of civic toadies, so Virgil and Everett appear like knights of law and order, ready to do another good deed.
---