Review: 'Miracle at St. Anna'
Spike Lee's retelling of World War II's black infantry draws on all the clichés.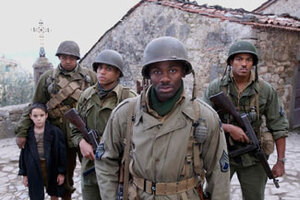 David Lee/AP
Precious few films have dealt even tangentially with the stories of black American soldiers in World War II, which is why Spike Lee's "Miracle at St. Anna" is doubly disappointing. Clocking in at 160 minutes, this interminable movie comes across like a rough cut. Perhaps Lee believed its length would give it gravitas. The opposite is true.
What Lee and screenwriter James McBride, adapting his novel, have essentially done is graft every World War II movie cliché featuring nonblacks onto a movie about the so-called Buffalo Soldiers, the all-black 92nd Infantry division of the segregated US Army. In the standard World War II movie – "A Walk in the Sun" is the template – we follow a platoon of diverse soldiers as they wisecrack their way across the battlefield. The Italian, the Pole, the Roman Catholic, the Jew, the bookworm, the ladies' man, the coward, the hero, the rube, the city slicker – they all get their time in the sun.
In "Miracle at St. Anna," which is mainly set in 1944, four members of the infantry are trapped behind enemy lines in Tuscany: the upright 2nd Staff Sgt. Aubrey Stamps (Derek Luke); the randy, gold-toothed Sgt. Bishop Cummings (Michael Ealy); the hulking, childlike Pfc. Sam Train (Omar Benson Miller); and Corp. Hector Negron (Laz Alonso), who we first see in the film's framing device 40 years hence as a postal worker who inexplicably shoots a man who comes to his window. The wartime flashback from this incident is supposed to explain his actions, although this fact is quickly forgotten, since Hector is easily the least interesting of the quartet.
---