From our files: A conversation with Paul Newman
The Monitor spoke with the late actor and director in 1981 about selecting roles, plots that challenge an audience, and journalism.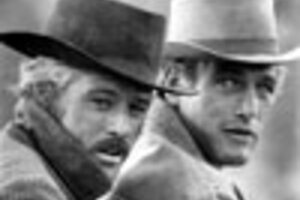 20th Century Fox/AP
From the December 3, 1981 edition of the Monitor
In his new movie "Absence of Malice" Paul Newman plays an unusual hero: Michael Gallagher, a blue-eyed but hard-boiled businessman whose only crime was having a bootlegger for a father.
Normally, his parentage would pose no problems. The police are investigating a complicated case, though, and they think Gallagher might know some answers. So they plant an incriminating story in the local newspaper, hoping this will irk him into spilling some beans.
And that's where the love story comes in. To plant their bait, the cops dupe a hotshot reporter, who happens to be played by the winsome Sally Field. Skullduggery or no, it isn't long before she and Gallagher are gazing wistfully into each other's eyes, wishing this movie were a plain old romance instead of an ambitious look at the responsibilities of the press in a free society.
It's the kind of role Newman loves to play - a strong character in tough but dramatic circumstances. And this time, he said during my recent interview with him here, it was more than just a meaty part with a good script and director. It was a chance to make a statement on a subject that has concerned him a lot lately: the properties of the newspaper business.
Newman had an unpleasant brush with the journalistic world during his last project, "Fort Apache the Bronx," a film that has angered some New Yorkers by its image of their city as a battleground between heroic white cops and vicious minority thugs. It wasn't the opinion of the local citizenry that bothered the star, though. It was reportage by newspapers, some of which he claims was blatantly false. Little wonder he was pleased when his next enterprise turned out to be "Absence of Malice," which turns the tables on the press-worshipping attitudes of "All the President's Men," pointing out the damage or irresponsibility "investigative reporter" can do.
---