Review: 'Rachel Getting Married'
Wrenching family drama puts Anne Hathaway center stage as an emotional wreck who creates havoc at her sister's nuptials.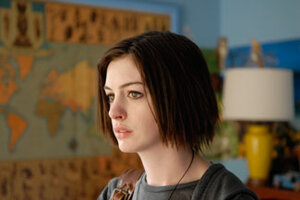 Courtesy of Sony Pictures Classics
If a movie's merit were linked to the likability of its main character, "Rachel Getting Married" would rate a zero. Anne Hathaway's Kym, whose sister Rachel (Rosemarie DeWitt) is indeed getting married, is like a human Brillo pad. Recently out of rehab, she remains an emotional wreck. She is unable to shake her guilt over the accidental death of her little brother for which she alone holds herself responsible.
Kym is also deeply resentful of Rachel's impending nuptials, which, not entirely consciously, she attempts to undermine. In the film's most ghastly comic moment, Rachel suddenly announces to her family, in the middle of a fight with Kym, that she is pregnant. Instead of being happy for Rachel, Kym pouts. She regards the news as an unfair game-changing tactic in the sibling wars.
Hathaway has until now been known primarily as an ingénue, and so initially it's startling to see her acting all hopped up and abrasive. Clearly we are not in "Devil Wears Prada" territory. But we shouldn't make too much of this makeover. After all, it's standard operating procedure in Hollywood, particularly as Oscar season approaches, to go from squeaky clean to down and dirty. And Hathaway, adept as she often is here, tends to overdo it. Kym is pretty much a nonstop nervous wreck and director Jonathan Demme never lets us forget it. He keeps his camera trained on her with a relentlessness that would seem overweening even on "Cops."
---