Review: 'Happy-Go-Lucky'
Mike Leigh's spirited new movie about a sweet-tempered schoolteacher is both humane and real.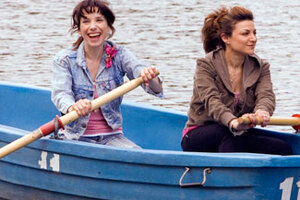 Simon Mein/AP
Few directors provide as much elation as Mike Leigh when he's at the top of his game. I'm not talking about the airhead happiness that often passes for exhilaration in the movies. The high spirits in Leigh's films do not discount the dangers of this world, and for this reason, their spiritedness is all the more valuable and hard-won. He's a starry-eyed realist.
The funny-sad "Happy-Go-Lucky" is not quite on a level with Leigh's best – which, for me, would be "Life is Sweet" and the Gilbert and Sullivan drama "Topsy-Turvy" – but it's a small, radiant gem in a movie season cluttered with rhinestones. You leave the theater feeling both clearheaded and buoyant.
Sally Hawkins, in a performance without a single false note, plays Poppy, a 30-year-old schoolteacher who shares a flat with a fellow instructor, the wisecracking Zoe (Alexis Zegerman), and loves to whiz through the streets of central London on her bicycle. When the bike is stolen, her first response is: "I didn't even have a chance to say goodbye." This is a typical Poppyism – comical and poig-nant all at once.
---