Review: 'The Secret Life of Bees'
Set in South Carolina during the 1960s, 'Bees' tackles racism and redemption but slips over the sappiness line.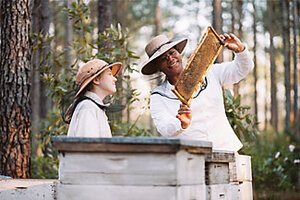 Courtesy of Twentieth Century Fox
The honey runs thick in "The Secret Life of Bees," and so does the treacle. The cloying dullness sets in early, although not from the first frame, which begins with a girl's voice-over narration telling us, "I killed my mother when I was 4 years old." This sounds like something Mickey Spillane might have cooked up.
In fact, the movie, written and directed by Gina Prince-Bythewood, is derived from a popular 2002 novel by Sue Monk Kidd, which is mostly set in South Carolina shortly after the passage of the Civil Rights Act. This setting allows the movie's talented but underutilized cast to try out their Deep South accents while sashaying, wriggling, cooing, and weeping.
Dakota Fanning is Lily, who accidentally shot her mother and now, years later, is stuck in a physically abusive relationship with her father (Paul Bettany), from whom she flees with the family housekeeper Rosaleen (Jennifer Hudson) into the warm embrace of beekeeper August Boatwright (Queen Latifah) and August's sisters May (Sophie Okonedo) and June (Alicia Keys). (What happened to July?)
---
Follow Stories Like This
Get the Monitor stories you care about delivered to your inbox.