Review: 'Twilight'
Debut movie of the wildly popular book franchise is jumbled and hackneyed but will still have teen girls screaming at lead Robert Pattinson.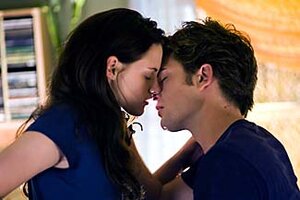 Deana Newcomb/AP/Summit Entertainment
Whether or not every teenage girl secretly wants to fall in love with a dashing vampire – as Stephenie Meyer's novel and cult object "Twilight" suggests – it's certain that most teenage girls in America can't wait for the movie version of "Twilight." Any book franchise that has sold more than 17 million copies globally and has, according the film's pressbook, spawned more than 350 fan websites is a force of its own, a megabusiness.
This is a good thing for Meyer, since the first film out of the chute is a hackneyed jumble of cuts and pastes from the book, blended with second-rate music video bits and third-rate visual effects, and finally undone by the fatal casting of Kristen Stewart as Bella, the heroine of the four-book "Twilight Saga." This, plus the poor decision to assign the erratic Catherine Hardwicke as director, sucks most of the stylish vigor and wit out of what made Meyer's debut such a fine piece of juvenile fiction that refused to dumb itself down for its audience.
---