Review: 'The Wrestler'
It's a match we've seen before. But Mickey Rourke delivers a powerful performance.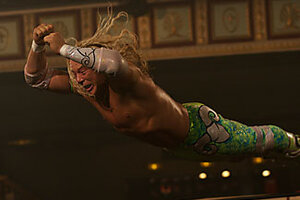 Fox Searchlight/Niko Tavernise/AP
In "The Wrestler," Mickey Rourke plays Randy "The Ram" Robinson, an over-the-hill grappler who has been locked out of his trailer home for nonpayment. To earn money he lugs cartons in a warehouse. Friendless, estranged from his daughter (Evan Rachel Wood), he frequents the local "gentlemen's club," where an aging stripper (Marisa Tomei), eyeing his scars, tells him he ought to see "The Passion of the Christ." Symbolism alert! The Ram's cuts are his stigmata. Can his resurrection be very far behind?
"The Wrestler" is a heavy dose of corn syrup. Director Darren Aronofsky's herky-jerky, hand-held camera stylistics have a veneer of verity, but don't be fooled. This pastiche, written by Robert Siegel, is purest Hollywood. If you've never seen, for starters, the "Rocky" movies or "Requiem for a Heavyweight" or "Somebody Up There Likes Me" or "Raging Bull," you might be forgiven in thinking "The Wrestler" was an original. But for anyone with a memory for movies going back more than a decade, it's not so much a blast from the past as a whimper from the vault. You've seen it all before – and better.
Aronofsky doesn't introduce the Ram to us right away, at least not headfirst. As in "The Elephant Man," the camera tracks behind him for a while until his face is revealed. And what a face. With his bruised, mashed mug, Rourke looks as if he's lived a life, which may explain why the enthusiasts for this movie are making little distinction between the actor and the role. Rourke once quit the movies to become a boxer and has been out of the acting limelight for some time now. In "The Wrestler," the Ram stages a 20th-anniversary rematch with a celebrated opponent and, similarly, Rourke's reentry into leading-man roles is being greeted as his very own personal comeback.
---