Ten best films: Biopics and classroom acts score high
The Monitor's critic sorts through what he sat through this year.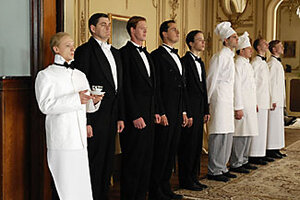 courtesy of martin Spelda/Sony Pictures Classics
More than 600 movies opened in theaters in 2008, of which your faithful critic saw about 300. Thank you very much. Among those I did not see: "The Hottie & the Nottie," "Not Your Typical Bigfoot Movie," and "Poultrygeist: Night of the Chicken Dead." Believe me, I saw plenty just as bad.
As usual, patterns prevailed. The early part of the year was a dumping ground for third-rate rejects. Summertime was Superhero Central. The fall/winter season remains ground zero for Oscar bait.
Although Iraq-themed dramas and documentaries – among them "Stop-Loss" and "Standard Operating Procedure" – continued their slog through the mostly unattended multiplexes, it was the Holocaust that, more than any other historical catastrophe, got the prestige-picture treatment this year from Hollywood. Within the space of three months we've had "The Boy in the Striped Pajamas," "Adam Resurrected," "The Reader," and, coming soon nationwide, "Good," "Valkyrie," and "Defiance." Why the pileup? Maybe filmmakers and audiences find it easier to confront the moral issues of wartime guilt and survival in a context that is not contemporaneous.
---