Film buffs ask: Know your noir?
Debate on definition surges as the hard-boiled genre revives.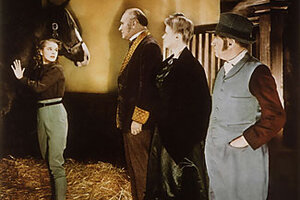 newscom
What's in a film noir? There should be dark shadows. An atmosphere of impending doom. And, of course, a femme fatale and a murder or two.
But can you have a film noir if one or two of those things are missing? Good question: As the genre experiences a revival, critics say marketers are hawking lots of old movies as film noir when they don't fit the definition.
The concept of noir has been "diluted," says Eddie Muller, a leading author on film noir. "I will chuckle at what I see people try to pass off as noir."
For instance, a number of online commenters noted that there's no femme fatale or gunplay in 1947's "Daisy Kenyon," a dark, romantic Joan Crawford flick that film buffs consider to be a "woman's picture." Yet the Fox studio declared the Otto Preminger-directed movie to be a film noir upon its release on DVD earlier this year.
Three more 1940s Fox films appeared on DVD under the noir banner last summer, prompting a New York Times critic to complain that the films actually belong in other categories. "I know [noir] when I see it," declared Dave Kehr, with a nod to the Supreme Court judge who famously used the phrase to describe indecency.
The argument over film noir isn't new: It's gone on for decades since the popularization of the French term for "black movie" to describe hard-boiled American films of the 1940s and 1950s, including such classics as "Double Indemnity" and "The Maltese Falcon."
In recent years, the genre has spawned more debate as film noir has grown in popularity.
---