Review: 'Revolutionary Road'
DiCaprio, Winslet reunite to blandly advance the myth of the soulless suburbs.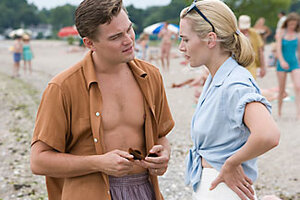 Courtesy of Francois Duhamel/Dreamworks
What is it about the 1950s that brings out the worst in cultural historians? The received wisdom is that this era that gave us Mailer and Ginsberg and Kerouac and Brando and Dean was, in fact, a bastion of strait-laced – i.e., straitjacketed – conformity. People, suburbanites especially, lived lives of quiet desperation in their look-alike, ticky-tacky dwellings. Wives were obsessed with spotless kitchens. Commuter trains served up faceless men in gray flannel suits to the gaping maw of Manhattan and then back again, to the two-car garage and the 2.5 children.
The latest movie to plug into this cautionary myth is "Revolutionary Road," set in the mid-'50s and based, extremely faithfully, on the celebrated 1961 novel by Richard Yates. The director is Sam Mendes, who plumbed these shallows once before in "American Beauty," which, though contemporary, felt '50-ish. The new film stars Leonardo DiCaprio and Kate Winslet, who previously appeared together in "Titanic." This is another kind of disaster movie, on dry land.
Frank Wheeler (DiCaprio) and his wife, April (Winslet), live in a Connecticut suburb that is suffocatingly prim. He works at a dull job in Manhattan at a business-machines corporation; she is a frustrated actress who suddenly has the bright idea to drop everything and make a fresh start in Paris. She will support the family while he tries to find himself.
---