Review: 'Valkyrie'
Tom Cruise plays a Nazi plotting to kill Hitler in a garden-variety bad movie.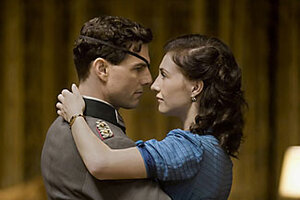 Paramount pictures
The long-delayed release of the much-troubled "Valkyrie," starring Tom Cruise as the man who would off Hitler, promised a stinker of epic proportions. Sadly, it lacks the classic awfulness that might have lifted it into the pantheon of Truly Bad Movies. Instead, what we have here is a garden variety bad movie, of which there have been all too many lately.
To begin with: Can anybody buy Cruise as someone named Col. Claus von Stauffenberg? His full name – inhale deeply – was Claus Philipp Maria Schenk Graf von Stauffenberg. He was the German aristocrat who, fed up with the Führer – though not, apparently, with the Reich – engineered a cadre of rebel German officers in 1944 to assassinate Hitler and take control of Berlin using Hitler's own national emergency reserve army.
Since we already know how this is going to turn out, the success of the film depends heavily on the engineering of director Bryan Singer and screenwriters Christopher McQuarrie and Nathan Alexander. It depends, most of all, on Cruise, who not only stars but also put together the project under the banner of his company, United Artists.
---