Review: 'Gran Torino'
Eastwood gives Dirty Harry a fresh turn in this tale of a racist retiree who reluctantly befriends and defends his immigrant neighbors.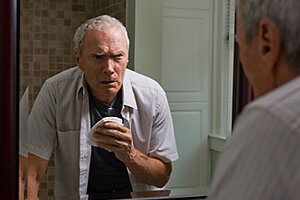 Courtesy Of Warner Bros.
As Korean war vet Walt Kowalski in "Gran Torino," Clint Eastwood seems to be playing a crotchety Dirty Harry.
I never took Harry Callahan seriously, although, in a guilty-pleasure kind of way, I greatly enjoyed his manginess. Harry was Eastwood's avatar of a righteous lawman swamped by society's scum (i.e., hippies, lefties, feminists, and any wacko combo therein). He existed in a perpetual state of slow burn punctuated by gunplay and kabooms.
In "Gran Torino," which Eastwood also directed, Walt is a recently widowed Detroit auto worker whose fuse is as short as Harry's. He can't stand his bickering children and spoiled grandchildren. Well stocked with beer but still in fighting trim, he spends quality time on his porch bemoaning the influx of Asian immigrants into his blue-collar neighborhood, particularly the Hmong family next door. Spewing racial epithets under his breath, often over his breath, too, Walt is a snarly Scrooge, which should be a tip-off that redemption is on the way. (Walt's intermittent bouts of coughing up blood are a blatant tip-off that mortality is also en route.)
"Get off my lawn!" is Walt's battle cry, which may explain why his lawn is as immaculate as his mouth is foul. Chief target of his wrath are the local Hmong gangbangers who are trying to recruit teenage Thao (Bee Vang), who lives next door with his old-school mother, grandmother, and plucky sister Sue (Ahney Her).
One of the nicer things Walt calls Thao is "Toad." When the boy, too meek to be gang material, flubs a gang initiation by attempting to steal Walt's mint-condition '72 Gran Torino, Thao's family makes amends by requiring him to do Walt's chores. Soon enough, Walt feels closer to this kid than to his own brood, and Sue, who has Walt's number, wears down his gruffness. Can the Ghost of Christmas Past be far behind?
---