Review: 'The Pink Panther 2'
Steve Martin's Inspector Clouseau and his comically gifted cohorts labor to raise laughs.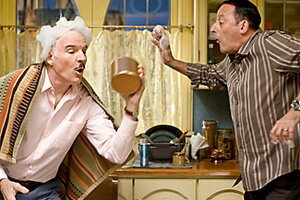 Peter Iovino/Columbia/Sony Pictures/AP
When Steve Martin assumed the role of Inspector Clouseau in 2006, I was one of the few critics who actually praised him. Peter Sellers may have been brilliant in the first two "Panther" films but does anybody remember how laggard the later installments were? Martin, a great physical comic with a genius for screwy foreign accents, was perfect casting.
Now we have "The Pink Panther 2," and the bloom is decidedly off the pinkish rose. Martin has a few inspired moments but in order to get to them you have to wade through a mosh pit of unfunny gags.
As the bumbling French police detective, Martin reclaims his nutso accent from the first film, to diminishing effect. In the 2006 "The Pink Panther," I laughed uncontrollably when Clouseau, taking speech lessons from an English language coach, repeatedly mangled the word "hamburger." Martin's deadpan lunacy in this scene was peerless.
In "The Pink Panther 2," director Harald Zwart and his co-writers (including Martin) can't come up with an equivalent to this scene – not even close. They are reduced to using "hamburger" all over again, in a much less funny context. Now it's the password for a SWAT team.
---