Review: 'Moscow, Belgium'
Romantic comedy plays to Hollywood formula, albeit in a foreign setting.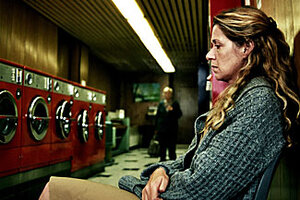 Courtesy of NeoClassic Films/Platform Media Group
"Moscow, Belgium" is a coy title for a coy little film which actually takes place on the outskirts of a working-class neighborhood of Ghent, Belgium, named Moscou. The Russia reference is a grabber but meaningless. Maybe someday this film will be paired on a double bill with Wim Wenders's "Paris, Texas."
First-time Flemish director Christophe Van Rompaey has already absorbed a multitude of bad habits from Hollywood. His film is ostensibly about the anguish of the lovelorn, but he consistently cutesies up the proceedings. Matty (Barbara Sarafian) works in a humdrum job at the post office and has three oddball children, a sexually precocious teenager, Vera (Anemone Valcke); her younger sister, Fien (Sofia Ferri); and Peter (Julian Borsani), who looks like a poster boy for Geeks Anonymous. Matty's art teacher husband Werner (Johan Heldenbergh) has been AWOL since he took up with a nubile young student, leaving Matty to pine and fume.
---