Review: 'Sunshine Cleaning'
Inspired casting with Amy Adams and Emily Blunt pushes film beyond chick-flick territory.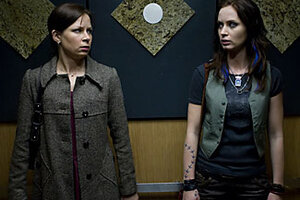 Lacey Terrell/Overture Films/AP
"Sunshine Cleaning" is fitted with a promising, ultimately unfulfilled, high concept. It's about two strapped-for-cash sisters: Rose (Amy Adams), a single mom and former Albuquerque high school prom queen; and her wayward sibling Norah (Emily Blunt); who go into the crime scene cleanup business. They scrub down the blood and the guts and get paid well for it.
You might think this would set the stage for a black comedy, but director Christine Jeffs and screenwriter Megan Holley opt for a less showy, more mundane approach. The sisters' occupation is presented as a job of work. And no doubt it is. It would have been over the top to have Rose and Norah gasping and heaving every time they descend upon a scene.
But the movie errs on the side of caution. Little is made of Rose and Norah's distaste, particularly after the first couple of jobs. They might as well be maids working at the local Holiday Inn. The filmmakers set up a showpiece premise and then deliberately play it down in the interests of a misguided verity; drab realism is the order of the day.
---