Review: 'Shall We Kiss?'
French comedy puts a philosophical twist on romance as two lovers weigh the consequences of a kiss.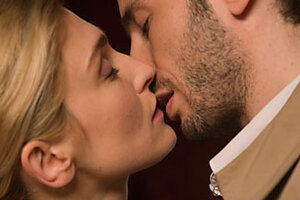 Music Box Films
As the saying goes, the French they are a funny race, and never more so than when they are making romantic comedies. In the movies of most other countries, certainly in the US, romance, sex, lust – whatever you want to call it – is a fact of life like eating and sleeping and complaining about the weather. It's something you do, not something you spend a lot of time talking about.
In French movies, by contrast, ardor is practically a branch of philosophy. Couplings are preceded, and followed, by high-flown prattle. In "Shall We Kiss?" the latest example of this peculiarly Gallic syndrome, the act is deconstructed to a fare-thee-well. The film, with apologies to Joan Rivers, should have been called "Can We Talk?"
It all starts out innocently enough in Nantes, where Émilie (Julie Gayet) and Gabriel (Michaël Cohen) meet as strangers. Both already have mates but are deeply attracted to each other. They come close to kissing before Émilie sounds the alarm. She recounts to Gabriel, in the flashback that constitutes most of the movie, the bittersweet story of a married woman, Judith (Virginie Ledoyen), and her best friend Nicolas (Emmanuel Mouret, who also wrote and directed), both acquaintances of Émilie's, and the kiss between them that turned out to be more than a kiss.
---