Review: 'Lymelife'
Another drama set in the bleak lands of suburbia, with some dysfunctional insects thrown in.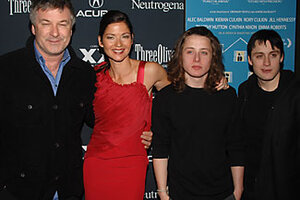 Peter Kramer/AP
Here we go again. Another movie about the awfulness of the 'burbs. Derick Martini's "Lymelife," the latest entrant, is set in the late 1970s in suburban Long Island, N.Y., and features the usual constellation of dysfunctional parents, siblings, neighbors. Even the insects – the ticks that spread Lyme disease throughout the community – are dysfunctional here. The disease is both literal and metaphorical. Bottom line: Everybody suffers. Fifteen-year-old Scott (Rory Culkin) has a philandering, workaholic father (Alec Baldwin) and an older brother (Kieran Culkin) who's about to ship off to war. Scott's sort-of girlfriend Adrianna (Emma Roberts) has her own parental baggage, including a father (Timothy Hutton) whose Lyme disease seems the least of his problems. Is it too much to ask that some day somebody will make a movie about 'burb bliss? Grade: C+ (Rated R for language, some sexual content, violence, and drug use.)
---
Follow Stories Like This
Get the Monitor stories you care about delivered to your inbox.