Review: 'Observe and Report'
Dark comedy swerves uneasily between violence and goofiness as an egotistic mall cop grapples with anger issues.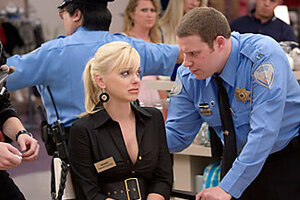 Warner Brothers Pictures/MCT/NEWSCOM
Seth Rogen goes dark in "Observe and Report," a weirdo comedy that at times owes as much to "Taxi Driver" as "Superbad." The writer-director, Jody Hill, has cited Martin Scorsese's film as a primary influence, but one should not take this comparison too far. The movie, starring Rogen as a mall cop with anger management issues, is essentially a goony romp flecked with disturbing eruptions of violence.
Those eruptions, more often than not, don't enlarge the jokes or provide a scarier, more comprehensive take on the human comedy. ("Taxi Driver," by the way, with its cretinous, vengeful cabbie played by Robert De Niro, was a lot closer to black comedy than most people realize.) Hill is trying to capture the teen gross-out contingent while also playing to the adult crowd with flashes of "seriousness." It's an unstable mix, not because light and dark should not go together, but because their pairing here resembles a matter of convenience – a way of seeming risky while not risking very much.
---