Review: 'Sugar'
Poignant tale of an aspiring Dominican baseball player explores lessons in dashed hopes.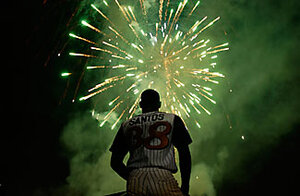 Sony Pictures Classics/ Fernando Calzada/ AP
Nineteen-year-old Miguel "Sugar" Santos (Algenis Perez Soto), one of the hot baseball prospects in the Dominican Republic, has a knuckle curveball that is a thing of beauty. Watching him pitch in his small village outside San Pedro de Macorís, you can understand why he loves what he does and why he and his family are banking on a professional baseball career up north.
The stage is set for a rags-to-riches odyssey of inspirationalism. But "Sugar," written and directed by Anna Boden and Ryan Fleck, is more emotionally nuanced than that. This is a movie not about the fulfillment of one's dreams but about what happens when those dreams are deferred.
Boden and Fleck, whose previous feature was the acclaimed "Half Nelson," recruited their cast from among Dominican baseball players with little or no acting experience. This was a wise decision. No doubt it's easier to teach a ballplayer to act than vice versa. The young athletes in "Sugar" have an unforced exhilaration on the baseball diamond that can't be faked, and their acting, free of the studiousness of trained performers, has a natural ease, too. Soto at times has a blank, closed-off quality, but this is entirely in keeping with Sugar's life situation as he moves from the jubilation of his Dominican homeland to the US, where he suddenly finds himself a stranger in a strange land.
---