Review: 'Adoration'
Atom Egoyan's film tackles terrorism and anti-Arabism all within the complex folds of family life.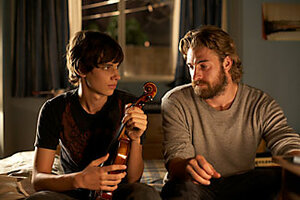 Courtesy of Sony Pictures Classics
Movies, we are constantly being reminded, are best when they showcase action and worst when they are about ideas. The immediacy of the medium is supposed to preclude it from doing justice to big-time brain waves.
But why can't we have both kinds of films? Surely the art form is spacious enough to accommodate equally "Casino Royale" and "The Seventh Seal"? Movies featuring a slew of philosophical talking heads may not be anybody's idea of a good time, but it's also true that a great director can make just about anything work (Louis Malle's "My Dinner with Andre," for example). Ideas, as in the best of Ingmar Bergman's movies, or Eric Rohmer's, can attain a vibrancy that is every bit as action-packed as a skidding U-turn.
Writer-director Atom Egoyan, whose new film is "Adoration," is a cautionary example of how unglued a talented director can become when his ideas run far ahead of his sense of drama.
Its plot takes off from a 1986 news story Egoyan once read about in which a Jordanian man sent his pregnant Irish girlfriend on an El Al flight with a bomb, unbeknownst to her, in her handbag. (Security discovered the bomb before it detonated.)
In "Adoration," Simon (Devon Bostick), a Toronto high school student, carries out a translation class exercise from his French teacher Sabine (Arsinée Khanjian) based on a real news story about a terrorist who plants a bomb with his pregnant girlfriend before she boards a flight to Israel. Simon's parents were killed years before in a car accident. Without cause, he has always suspected his father (Noam Jenkins), who is of Lebanese extraction, of intentionally causing the crash.
---