Review: 'Terminator Salvation'
Set in postapocalyptic 2018, this latest installment of the 'Terminator' franchise with Christian Bale leading the resistance fighters is as intense and complex as ever.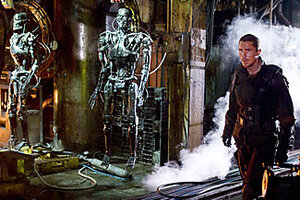 Richard Foreman/Warner Bros Pictures/Reuters
"Terminator Salvation" gives new meaning to the phrase heavy metal. The Terminators in this fourth film in the franchise are so big and clangy that, during the fight scenes, you may find yourself clutching your ears far more often than the armrests.
It's 2018 and Judgment Day, "Terminator"-style, has obliterated most of the planet's humankind. But the Resistance – i.e., a few measly mortals – are still holding out for humanity. Topping the hero hit list is John Connor (Christian Bale), who is so intense his stare could melt plutonium. As we keep being told, John is the "prophetic leader" of the Resistance.
The current John is the grown-up version of the hero-in-waiting played as a whippersnapper by Edward Furlong (in "Terminator 2: Judgment Day") and Nick Stahl (in "Terminator 3: Rise of the Machines"). Through a time-travel scenario that only the Terminator geekocracy seems to fully understand, John's future father, Kyle Reese (Anton Yelchin, who plays Chekov in the new "Star Trek") appears in "Terminator Salvation" as a teenager. John's mission – one of them anyway – is to rescue Kyle from the clutches of the big bots.
---