Review: 'Easy Virtue'
Despite aspirations to be more than a comedy, this revamp of Noel Coward's play survives on forced high spirits.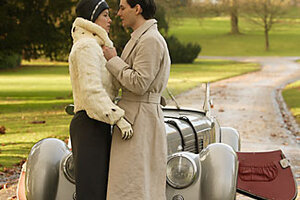 Courtesy of Sony Pictures Classics
If beautiful people were the same thing as beautiful production values, I'd be tempted to call "Easy Virtue" a beautiful movie. Freely adapted from the 1924 Noel Coward play, it stars Jessica Biel, who plays Larita, an American divorcée and racing car champion who marries upper-crust Englishman John Whittaker, played by Ben Barnes, the titular character in "The Chronicles of Narnia: Prince Caspian." John's parents, Mr. and Mrs. Whittaker, are played by Colin Firth and Kristin Scott Thomas. That's a lot of eye candy.
But candy isn't terribly nourishing in the long haul, and "Easy Virtue" has more on its addled mind than treats. Lurking beneath all the flounciness and fripperies is an attack on the British landed gentry. The chief battle of wills here is between Larita, who comes from humble Detroit stock, and Mrs. Whittaker, whose spine seems made not of steel but of plutonium. She's so formidable, and so disapproving of Larita as her new daughter-in-law, that the environs seem to ice up whenever she's around.
Most of those environs consist of the Whittakers' vast country estate, which also houses John's two simpering, resentful spinster sisters (Kimberley Nixon and Katherine Parkinson). Between the ogre-ish mother and sisters and that gloomily imposing estate, "Easy Virtue" has the trappings of a fairy tale, with Larita as a kind of flapper Red Riding Hood. But Mr. Whittaker is no big bad wolf. As Firth plays him, he's the only family member, and that includes John, who truly understands Larita. Still a bit shellshocked from his service in World War I, he carries a world weariness that is easily the most authentic emotion in a movie that otherwise overdoses on artificiality.
---