Review: 'Up'
Pixar's latest is the gracefully told story of a retired widower and his young stowaway who venture in the wilds of South America.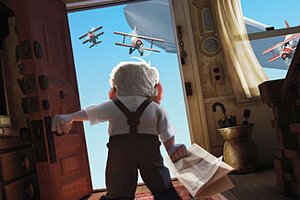 Disney/Pixar
"Up," the new animated feature from Pixar, opens with an extended sequence, lasting no more than ten minutes, that is probably the best thing the studio has ever done. Little Carl Fredericksen meets Ellie, his rambunctious soul mate, and, in quick, lyrical progression, we watch them grow up and marry and live a life together into old age, until Ellie's death leaves Carl a glum widower.
As a piece of poetic compression, it ranks with the opening of Orson Welles's "The Magnificent Ambersons."
But Pixar movies have a way of beginning beautifully and then getting lost along the way, and "Up," for all its charm, is no exception. ("Wall-E," for example, was one of the most bifurcated movies ever made – the Earth-bound opening section was transcendent, the rest was attenuated). Sustaining a solid story line is just as crucial for animation as for any other kind of movie, perhaps more so, since it's particularly tiring to suspend disbelief if the narrative is wayward.
"Up" is less visually exuberant than many of the other Pixar films, but in this case that's a plus. Its rather thin plot could not have borne the weight of wing-ding stylistics. Along with his codirector Bob Peterson, Pete Docter ("Monsters, Inc.") frames the action with such pictorial clarity that we are never overwhelmed. This may not be the best of the Pixar movies but it's probably the most graceful. (I saw it in 3-D but it can also be viewed, with probably not much visual loss, in plain old 2-D).
---